BROCHURES
A downloadable pdf of our brochure is available from the website immediately after each Festival is launched to the public. If you would particularly like to have a printed version and live locally to Rye, you will find them at a number of outlets around the town including Grammar School Records on the High Street, other shops, pubs and restaurants. If you don't live locally, contact the Box Office giving your name and full address to have one posted to you.
DISCOUNTS
Discounts on tickets are available to Benefactors and Friends but only when booking in advance. Discounts are not offered for tickets sold 'at the door'. The discount rate is 15% off every ticket purchased if you are a Benefactor or 10% if you are a Friend of the Festival. To become a Benefactor or Friend and immediately benefit from the priority booking period and discounted ticket prices, please click here
CONCESSIONS
Unless it is specifically mentioned, there are no discounts (other than via Benefactor/Friend  membership) for any events. In a few instances there are concessions for Senior Citizens, Students  and children, these are marked quite clearly against the relevant event.
MULTI-BUY PURCHASES
Occasionally we have linked events where a discount may be offered. If this is the case, it will be clearly marked as such.
JAZZ
There are usually a number of events during the Rye Arts Festival that feature Jazz. However, there is a separate Rye Jazz Festival that takes place annually. Rye Jazz Festival is not related to Rye Arts Festival and we cannot supply tickets for it.
LOGGING IN – EXISTING USERS
If you want to buy tickets and are eligible for a Benefactor or Friend discount, please login at the top of the event pages. If your old password no longer works, please click the 'reset password' button and instructions on how to complete the reset will be sent to the e-mail address we have registered for you.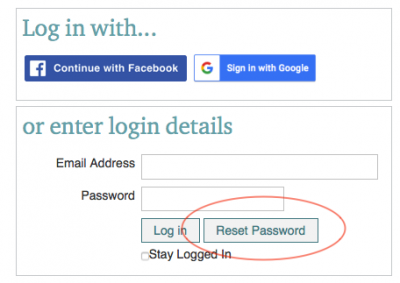 LOST PASSWORD
You can ask for your password to be reset at any stage. We suggest you create something that you will find easy to remember but please bear in mind that 'easy' passwords are more likely to be compromised.
PARKING
Rye is a very compact town and there is very little free parking. Parking meters now operate until 6.00pm. There are however, a number of car parks in the vicinity of each of the venues, for most of which a fee is payable. If you are not familiar with Rye and have difficulty walking, or are bringing someone who is, please contact the Box Office for advice. It is usually possible to drop off someone at a venue door and then proceed to park elsewhere.
PAYMENT METHODS
If you wish to buy tickets or membership online you can use a a credit or a debit card, Paypal, Facebook or Google account. If buying tickets for our September festival, you can do so online or by telephoning the Box Office: 01797 462168. Please leave a message if the phone is not answered at the time and we will get back to you.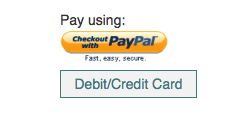 PAYPAL
You do not need a Paypal, Facebook or Google account in order to log in or to purchase tickets. When you reach the payment stage, click on the blue "Debit/Credit Card' wording immediately beneath the orange "PayPal" button (see picture below) to pay with a card.  There are no extra fees for making a card purchase.
CANCELLING AN ITEM
If you add an item to your shopping basket that you later decide you don't want to purchase, please click on the delete button to the right of the relevant item or the 'Clear Basket' if you wish to remove everything. You will also see a 'Continue Shopping' button above your basket contents if you decide to add a few more tickets!
TICKETS
Tickets purchased online will be sent to you by e-mail. You do not need to print your tickets – just show your confirmation e-mail on a smart phone, tablet or other electronic device to a Steward at the door.  Alternatively, make a note of the eight digit Order Reference Number (starting 00005 or 00006) and the stewards will be able to check you in.
If your tickets fail to arrive after your purchase has been acknowledged – Please check your "JUNK" or "SPAM" folder. If they are there, please add our e-mail address to your Contacts list to ensure future safe delivery of tickets.
SEATING
There are no allocated seats at any of the events, with the exception of previously-booked wheelchairs. It therefore pays to be prompt when coming to an event.