49th Annual Festival
11th September - 27th September 2020
Creative Writing Course – May and June 2020
With regret, due to Covid-19 prevention measures, Rye Arts Festival has had to postpone this course. Please return to this website or subscribe to our Newsletters for future updates on our Festivals. Newsletters are sent out regularly to our members, customers and subscribers.
You can become a Benefactor or Friend at any time – just click here or on the Membership tab at the top of this webpage.
Volunteering
If you would like to become involved with bringing the arts to Rye, the Festival organisers would like to hear from you. Volunteers with a wide range of administrative, creative, marketing or other skills are needed. If you would like to be involved, Rye Arts Festival would be pleased to hear from you – click here to e-mail us.
Rye Arts Festival has an official Radio partner:
A Message from John Case,
Trustee and Chair of the Festival Organising Committee
Covid-19
prevention measures
After much heartfelt thought and discussion over the past few days, the Trustees have made the very sad decision to cancel the 2020 Rye Arts Festival as a result of the deepening national crisis caused by Coronavirus disease (Covid-19).
Whilst the Festival was due to take place in September, six months away, we feel we cannot take the financial risk of committing to a large-scale festival in such uncertain times. In the coming weeks we would have to commit to increasing and substantial expenditure for marketing and brochures before tickets go on sale, so the Trustees felt we must do our best to preserve the Festival's future financial position for its members.
We also have to consider the health and safety of the people in the Festival Organising Committee. There would be a lot of planning and organisation still required and the Trustees felt it was unfair to ask the Committee to continue to work in an environment that would go against the Government's strong recommendations for social distancing.
The good news is that we will be back in 2021 to celebrate the 50th anniversary of the Rye Arts Festival in a big way! At the recent AGM, we distributed questionnaires asking what you would like to see in 2020, so please keep those suggestions coming, you can click here to access it. We would be grateful if you could please complete it and e-mail to me or post to Mary Howse, The Bartletts, Main Street, Beckley Rye TN31 6RR.
If the situation improves, it may be possible to present a small number of events but we do need to let the current global and national situation stabilise before committing to anything. Please do ensure though that you remain signed up to our mailing list so you can be kept informed.
On behalf of the Trustees and Festival Organising Committee we would like to thank you for your support for the festival, which is invaluable, and look forward to seeing you in 2021, if not sooner.
Keep safe,
John Case
Chair of the Festival Organising Committee and Trustee, Rye Arts Festival
john.case@ryeartsfestival.org.uk
COMMENTS ON THE 2019 FESTIVAL
More than just satisfied Customers!
"I was privileged to attend three superb talks in four days by speakers of international calibration, namely Sir Max Hastings, Lord Owen and Andrew Roberts. No arts festival on earth could improve on that. Well done! Truly, you have set the bar exceedingly high. I can't wait for next year. " Roy Isworth
"My daughter Sophie and I had a truly memorable cRYmE Day. it happened to be my birthday and what a treat it was to hear four excellent speakers and enjoy a fabulous lunch. I will not forget it. A heartfelt thanks to the organisers and to Guy Fraser-Sampson for his relaxed approach which made the audience feel very much at home."  Carol and Sophie Dennard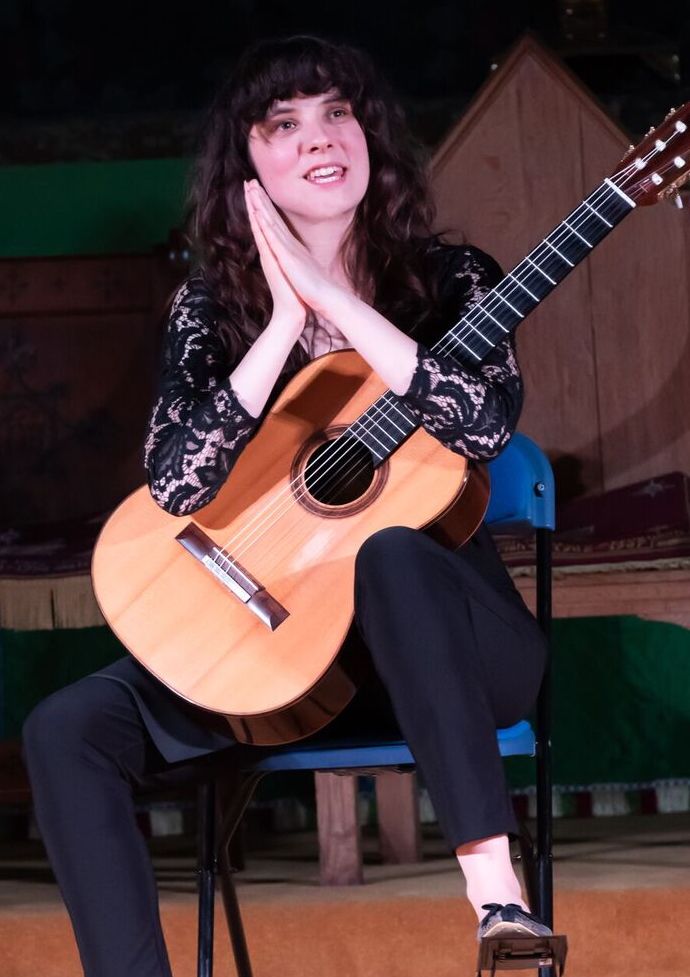 … and about Laura Snowden:
"A World class artist… how lucky are we? Thanks for hosting such a great concert." Kate Lewis (Photo by Paul Whiteman)
… and about Trio Opal:
"What a fantastic concert!  I have attended many excellent Rye Festival classical concerts over the years but this one topped all in holding awareness of pleasure in all aspects of listening and watching for every minute of the stunning performance!!  I was lucky enough to be sitting where I could see all three members of the ultra talented trio and was held spellbound via both ears and eyes throughout the entire hour plus.  What  a blissful respite from current political news! I hope the Trio has already been booked for next year's Festival.  Those fortunate enough to attend last night – others felt as I did – should guarantee it is a sell-out! All good wishes to those who make the Rye Festival such a high point of the year." Jean Floyd
"… you have given us a wealth of speakers this year … (the Festival) is an absolute beacon of excellence and we count ourselves fortunate to be able to enjoy such wonderful events in Rye every year." Emma Isworth
You can become a member at any time – just click here or on the Membership tab at the top of this webpage.
Happy Performers
Not only our customers but also our performers have been smothering us in praise : )
Dear Rye Arts Festival Committee, It's already been a month, since we performed at the Rye Arts Festival, and on behalf of the Music Team, the Pink Singers Management Committee, and the wider choir, I would like to take this opportunity to thank you for inviting us to sing at your event.  It was widely plauded by members of the choir as the 'best thing we've done this year'. I don't think any of us were prepared for the warm welcome and reception afforded to us by the people of Rye, and how popular the concert would be.  We thoroughly enjoyed performing for you, and we're incredibly grateful that you chose us as part of your line up for this year's festival.  The venue was fantastic, and I also know our accompanist John Flinders would want me to pass on his enjoyment of playing such a magnificent piano! We are already hoping that you'll consider us for further collaboration.  Please do keep in touch and I look forward to continuing to build on our working relationship, and hopefully coming to perform at Rye some time again in the future.
Yours sincerely, Paul Roets-Truesdale – Events Manager, on behalf of the Pink Singers.