Friday 9th – Sunday 25th September 2022
After a successful 50th anniversary Festival in 2021, the team at Rye Arts Festival are hard at work putting together a bumper programme of events for our 51st Festival in September 2022.
We know that many of you like to be able to plan the events you attend in advance, so wherever possible we will release programme details as soon as they are confirmed.
Don't forget to make sure you have signed up to receive our occasional emails to ensure you don't miss key booking dates.
Last year's Rye Arts Festival featured around 60 ticketed events, this is a comment from one Festival goer:
FROM A HAPPY PARTICIPANT: Dear Rye Festival Team,
I just wanted to write and thank you for a brilliant day. I've never been to an event like it. Two concerts by a superb choir in two wonderfully historic churches, with a sunset walk through beautiful countryside in between, on an absolutely glorious evening. Please thank the ever cheerful volunteers who stewarded us so ably through such a complicated event. It would perhaps have been nice to have little more time for refreshment and examination of St Thomas's before the second concert, but one can't have everything. I have no idea how you can top that next year, but I'll be there! Jane H
Our next Festival will be taking place between Friday 9th and Sunday 25th September 2022.
The 50th Anniversary Solid Gold brooch draw winner
Liz Ward was the lucky winner of the solid gold, handmade brooch commissioned to celebrate the golden anniversary of Rye Arts Festival in 2021. Liz came into Rye to collect her prize from Simon Milne, the Rye jeweller who made the stunning piece with the Festival's Joint Directors John Case and Andy Stuart.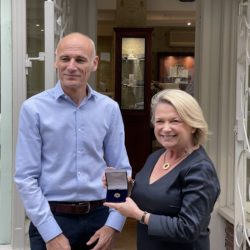 Since this year marks the 50th anniversary of Rye Arts Festival, the Trustees decided to commission a brooch recreating the Festival's logo, which was devised from a detail within a window in the Clare Chapel in St Mary's Church Rye. A free prize draw which anyone could enter was run and the winner of this beautiful piece of craftsmanship is Liz, who lives in Tenterden.
Liz says: "I was thrilled to discover that I had won the gorgeous piece that has been beautifully hand-crafted by Simon Milne. My husband and I love coming to Rye for the annual Rye Arts Festival, and to win this historic commemorative brooch is amazing. I will treasure it and wear it on special occasions."
John Case adds: "Rye is home to so many incredibly talented artists, craftspeople and artisans, as well as musicians, actors and writers. The annual Rye Arts Festival showcases talent not only from the local area but also the wider British Isles and from around the world. In 2021 we had performers from the USA, the Netherlands, Belgium, Malta, Germany, Russia and Israel, but we are delighted that the winner of the gold brooch will find a home just up the road from us in Tenterden with a lovely winner who clearly treasures her prize!"
Digital Fringe Videos
BENEFACTORS & MEMBERS: Don't forget you need to log in for membership information and updates.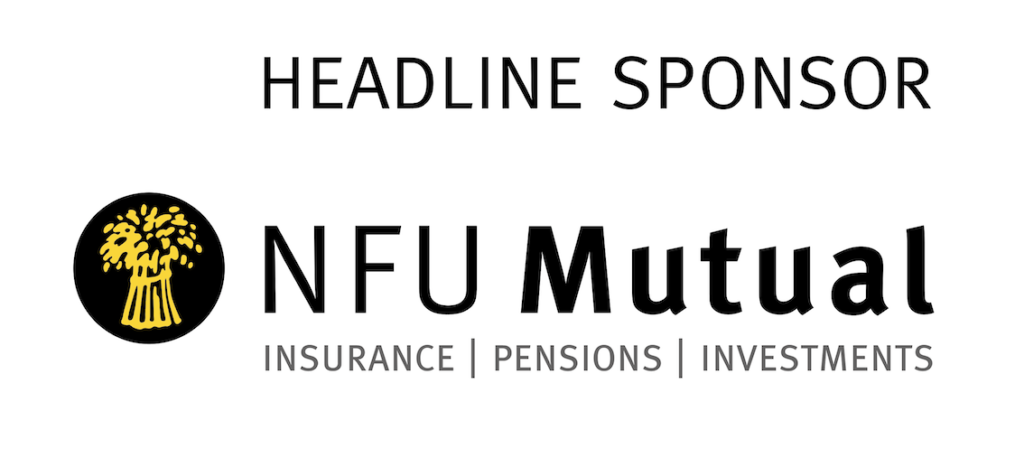 Here is what they have to say about our relationship

Rye Arts Festival official Radio partner.