47th Annual Festival
15th September - 30th September 2018
The Festival is in full swing…
All visitors to this website can buy tickets, but don't delay as some events have already sold out and others are heading that way fast…
Rye Arts Festival is the biggest and most successful multi-arts festival in East Sussex. Click here to read more about us including our Personal Data Promise.
Brochures can be found in numerous places in Hastings, Bexhill-on-Sea, Tenterden and Ashford as well as in and around Rye (the Heritage Centre, hotels, pubs, restaurants, etc). The brochure is also available as a downloadable pdf from the link at the bottom of this page.
DERVISH SOLD OUT!!
Dervish, performing this evening is a sell out!
But for fans of contemporary music, there are still tickets for Mose Fan Fan on Wednesday 26th September and the True Born Irishman, Daoiri Farrell on Friday 29th!
Short Story Writing Competition
Rye Arts Festival also announces a competition for budding short story writers. There will be two categories, those aged 11 to 18 and 18+. The theme is MARCH and you are asked to write a maximum of 1,500 words. You can enter more than one short story. This competition is FREE to enter. Your entires must be delivered to Rye Bookshop, 25 High Street, Rye TN31 7JF. Closing date: 5:30pm, Saturday 12th January 2019.
If you decide to spend some time in Rye, please click here to find out more about places to stay, eat and drink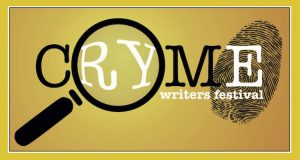 RYE ARTS FESTIVAL BRINGS YOU…
a cRYmE writers festival
Fascinating talks by crime authors Simon Brett and Nicola Upson plus a mystery major crime aficionado. Details will be announced on this website shortly, with the ability to buy an 'Early Bird' ticket for the three talks and a delicious three-course themed lunch at the atmospheric Mermaid Inn in Rye.