As part of our policy to support local educational activities and encourage involvement in the Festival by younger generations, specially organised events and workshops are run during the Festival.  Our Drama category always includes Dance by the students of Rye Dance School.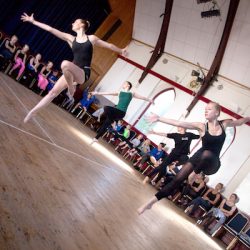 We always feature workshops in schools led by classical musicians, artists, actors and authors.
In the middle of the 2018 Festival Meurig Thomas, a music specialist from Wales, spent time in our local primary schools bringing them together to create a concert. and towards the end of the Festival we invited Saint Ronan's Prep School musicians to provide an hour long extravaganza of sizzling strings, an orchestra and a jazz band together with solo and choir performances. Towards the end of the Festival, Theatre Rotto brought Hans Christian Andersen's fairy tale of Little Ida to the Community Centre in the form of a puppet show with musicians.
These initiatives build on a long-standing Festival tradition to incorporate events for young people in the programme.  In past years, the festival has also been launched with colourful carnival parades of students from local Primary Schools and the Rye Academy Trust.