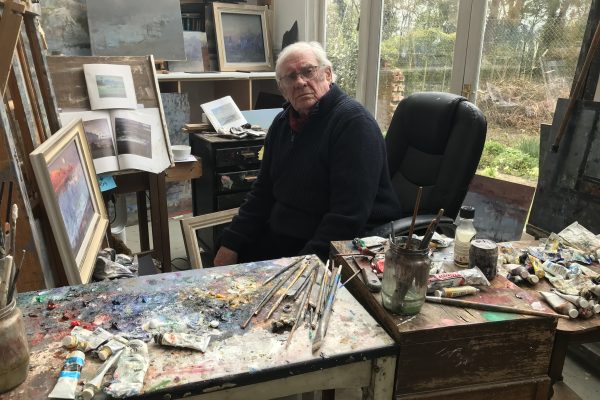 Coastal Landscapes – Fred Cuming RA
Venue:

Bridge Point, Rock Channel, Rye TN31 7DE

Category:
Exhibition Details
Fred was born in London in 1930. He attended Sidcup School of Art 1945–1949 and the Royal College of Art 1951–1955. He was awarded the Abbey Minor Scholarship to Italy 1955 and was elected to the New English Arts Club in 1960, Associate member of the Royal Academy in 1969 and as a Royal Academician in 1974. His work can be found in private and public collections internationally and he holds an Honorary Doctorate from Kent University.
The Royal Academy occasionally selects a member for a solo exhibition within the Summer Show and Fred was so honoured. He is also a former Artist in Residence at Canterbury Christ Church University.
Fred has devoted his life to expressing the fleeting impressions of his surroundings, often painting the South Coast of England around Hastings and Rye. His work is about responses to the moods and atmospheres generated by landscape, still life or interior. He is interested in the developments of 20th Century painting, in abstraction, that have been present in all movements and in new ideas and art forms.
For more information on the above and about the Society of Graphic Fine Art (SGFA) please click here.
Fred's exhibition show space was used to host Rye Arts Festival's Sponsors' Party on Thursday 12th September. There was a packed crowd that evening, during which a silent auction for  the painting 'Bullfinches' was conducted. The painting was sold as it exceeded the reserve price and Rye Arts Festival has received a donation of £1550 to be used for outreach programmes.

With thanks to David and Sarah Kowitz, who have made this exhibition possible.
Entry to this exhibition is free.
The exhibition runs from 14th September – 28th September 2019
Opening Hours:
Monday – Friday 13:00 – 15:00
Saturday and Sunday 11:00 – 14:00
Facilities:
There is disabled access to this exhibition.
Photo Gallery