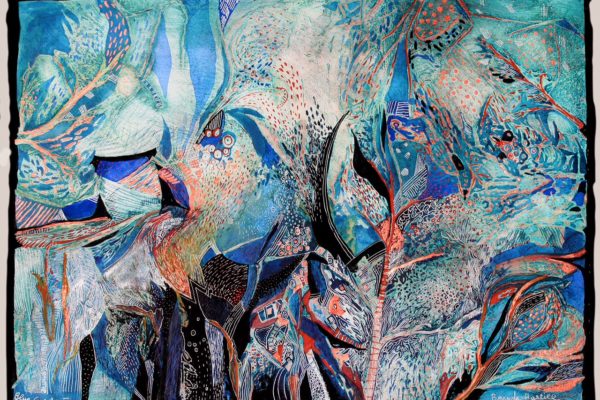 Brenda Hartill
Venue:

Brenda Hartill Studio, Pound House, Udimore, Rye TN31 6AY

Category:
Exhibition Details
Local artist Brenda Hartill is well known for her heavily embossed and richly textured prints and paintings.
She is giving a talk & demonstration on Saturday 18th September at 2pm in her Studio at Pound House, Udimore, Rye TN31 6AY.
She will also be opening the studio between 11:00 and 17:00 on the three weekends during the 2021 Festival (and at other times by appointment).
Born in London, Brenda Hartill emigrated to New Zealand with her parents in the late 1950s, and was educated there, graduating FA honours at the Elam School of Fine Art Auckland. She returned to London in the late 1960s to study at the Central School of Art and Design, specialising in Theatrical Design. In the early eighties, she turned towards printmaking and has successfully published her own prints since. She is a member of the Royal Society of Painter Printmakers (RE), The Rye Society of Artists, and Pure Arts Group.
Brenda describes her work as follows:
"My work is experimental, abstract and embossed.  Collagraph, etching, watercolour, collage and encaustic works. My main love is abstracting the essence of the landscape in richly coloured textured works, often enhanced with silver and gold leaf.   Recent works include a series of watercolour paintings with collagraph embossings. I have developed a method of inking using the different levels of the plate, mixing primary colours on the plate, thus producing a shimmer of colour. My work develops through the materials I use. My ongoing fascination is with erosion, weather patterns, natural textures, growth formations, and universal organic forms."
www.brendahartill.com
email brenda.hartill@gmail.com
Tel: 07841 521712
Photo Gallery