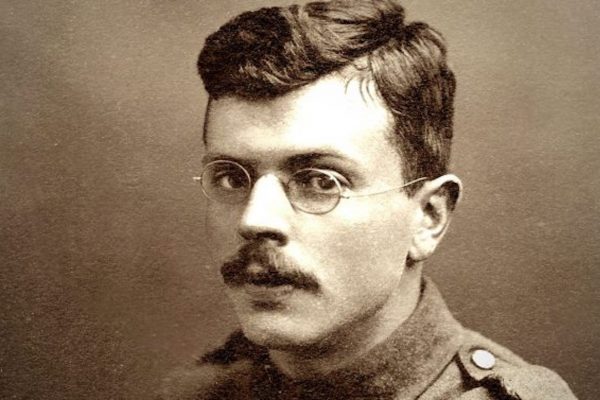 Classical
First War Poet of England am I
Event Details
Date:

17th September 2018

Time:

19:30

Venue:

St Mary's Church
Lion Street, Rye TN31 7LB
Performer/s:

Roderick Williams, Iain Burnside and Philip Franks

Sponsor/s:

Concepts of Rye & Michael St Clair George
Performed by: Roderick Williams, Iain Burnside and Philip Franks
Ivor Gurney occupies a unique position in British culture, being equally revered for his music and poetry. Although a tragic figure, Gurney's work is often witty and his music searingly beautiful. This performance incorporates song and poetry and was broadcast by BBC Radio 3 on Armistice Day last year.
DOORS OPEN: 18:45
EVENT STARTS: 19:30
DURATION: 70 minutes approx.
FACILITIES
Disabled Access, Hearing Loop, Bar.
Songs and poems of Ivor Gurney
Passionate Earth 1918 – Gurney Black Stitchel (Wilfrid Gibson)
Old Martinmas Eve 1918 – Gurney Desire in Spring (Francis Ledwidge)
Franz Schubert 1926
Schubert Kriegers Ahnung (Ludwig Rellstab)
Gurney Captain Stratton's Fancy (John Masefield)
The Road 1918
Gurney Piano Prelude in F sharp
from To the State of Colorado, 1924
Vaughan Williams A Clear Midnight (Walt Whitman)
Gurney Reconciliation (Walt Whitman)
Walt Whitman 1924
Vaughan Williams Joy, Shipmate, Joy! (Walt Whitman)
After looking at a Walt Whitman title, 1926
Gurney On the Downs (John Masefield)
Schumann Sehnsucht nach der Waldgegend (Justinus Kerner)
R. Schumann 1926
Gurney Piano Prelude in D flat
Schubert Herbst (Ludwig Rellstab)
Autumn 1926
Gurney Lights Out (Edward Thomas)
An Ending 1918
Finzi Fear no more the heat o' the sun (William Shakespeare)
Not since Thomas Campion in the 16th century has Britain boasted a composer acclaimed equally as a poet. While it is a comparison that would probably have delighted the Elizabethan-loving Gurney, it would not have surprised him. As the title of our recital suggests, he did not lack self-belief. The outline of Gurney's story has become increasingly well known since his death in 1937. Born and bred in Gloucester, he sang as a cathedral chorister alongside Herbert Howells. Howells later joined him at the RCM, where Gurney studied, not entirely happily, with Stanford. When war interrupted those studies he joined the 2/5th Gloucesters, serving as a private. Although army life initially helped both the neurasthenic and gastric disorders from which he already suffered, combat in the Flanders trenches scarred Gurney, both in mind and body. The return to civilian life led to a suicide attempt, and in 1922 he was certified insane. He spent the last 15 years of his life in mental hospitals, initially in Gloucester and latterly in Dartford, Kent. Much of Gurney's poetry and music still sits in manuscript, awaiting editors skilled and patient enough to decode its many secrets. Most of the poems in this programme are due to be published shortly in an edition by Philip Lancaster, for whose help and encouragement I am most grateful. They are remarkable for their range – in length, tone and subject matter.The heading To the State of Coloradois a postal address, rather than a title: it starts one of many long letters written in verse in which Gurney obsessively revisits his war service, begging for release from the Dartford asylum. Their tortured blending of poetry, autobiography and military history make these letters personal documents like no others. Our aim in the programme is to juxtapose Gurney's writing both with his own music and that of the masters he so revered. His insights into Schubert and Schumann are touching and wise. With his friend, mentor and behind-the-scenes financial supporter Ralph Vaughan Williams he shares a love of Walt Whitman. We end with Finzi's quiet masterpiece Fear no more the heat o' the sunin acknowledgement of the work both Gerald and Joy Finzi undertook  to bring Gurney's music into the open.Captain Stratton's Fancywas written as a wartime morale booster for Gurney's great friend F.W. Harvey, marooned in a German prison camp. Its unrestrained high spirits remind us that the anguish in Gurney's life and work is only part of the story; that this was man of wit, fun and irrepressible energy; that his was a creative spirit unique in the early 20th century. Iain Burnside
You can learn more about Iain Burnside by clicking on this link – by Frances Wilson who blogs on classical music as The Cross-Eyed Pianist".
More About Roderick Williams OBE
Roderick  Williams encompasses a wide repertoire, from baroque to contemporary music, in the opera house, on the concert platform and in recital. He enjoys relationships with all the major UK opera houses.  He has also sung world premieres of operas by, among others, David Sawer, Sally Beamish, Michael van der Aa, Robert Saxton and Alexander Knaifel. Roderick Williams has sung concert repertoire with all the BBC orchestras, and many other ensembles including the Royal Scottish National Orchestra, the Philharmonia, London Sinfonietta, Royal Liverpool Philharmonic Orchestra, the Hallé, Britten Sinfonia, Bournemouth Symphony and Scottish Chamber Orchestra.  Abroad he has worked with the Berlin Philharmonic, Deutsches Symphonie-Orchester Berlin, Russian National Orchestra, Orchestre Philharmonique de Radio France, Ensemble Orchestral de Paris,  Accademia Nazionale di Santa Cecilia in Rome and Bach Collegium Japan amongst others.   His many festival appearances include the BBC Proms (including the Last Night in 2014), Edinburgh, Cheltenham, Bath, Aldeburgh and Melbourne.
Recent and future opera engagements include Oronte in Charpentier's Medée, Don Alfonso / Cosi fan Tutte, Pollux / Castor and Pollux and baritone soloist in the new production of Britten's War Requiem all for English National Opera, Toby Kramer in Van der Aa's Sunken Garden in the Netherlands , Lyon and London,  Van der Aa's After Life at Melbourne State Theatre,  Sharpless in Madama Butterfly  for the Nederlandse Reisopera, the title roles of Eugene Onegin  for Garsington Opera and Billy Budd for Opera North, and Papageno / Die Zauberflöte for the Royal Opera House.  Recent and future concert engagements include concerts with the Rias Kammerchor, Seoul Philharmonic, Gabrieli Consort, London Philharmonic Orchestra, City of Birmingham Symphony Orchestra, Cincinnati Symphony, Music of the Baroque Chicago, New York Philharmonic,Virginia Arts Festival, BBC Proms, Melbourne Symphony Orchestra, Berlin Philharmonic Orchestra, Orchestra of the Age of Enlightenment as well as many recitals and concerts in the UK and worldwide. He is also an accomplished recital artist who can be heard at venues and festivals including Wigmore Hall, Kings Place, LSO St Luke's, the Perth Concert Hall, Oxford Lieder Festival, London Song Festival, Concertgebouw, the Musikverein, Vienna and appears regularly on Radio 3 both as a performer and a presenter.  In 2017/18 he will perform all three Schubert Cycles at the Wigmore Hall. His numerous recordings include Vaughan Williams, Berkeley and Britten operas for Chandos and an extensive repertoire of English song with pianist Iain Burnside for Naxos. Roderick Williams is also a composer and has had works premiered at the Wigmore and Barbican Halls, the Purcell Room and live on national radio. He was Artistic Director of Leeds Lieder in April 2016 and won the RPS Singerof the Year award in May 2016.  He was awarded an OBE in June 2017.
You can learn more about Roderick Williams by clicking on this link – by Frances Wilson who blogs on classical music as The Cross-Eyed Pianist".
More About Iain Burnside
Iain Burnside is a pianist who has appeared in recital with many of the world's leading singers ("pretty much ideal" BBC Music Magazine). He is also an insightful programmer with an instinct for the telling juxtaposition. His recordings straddle an exuberantly eclectic repertoire ranging from Beethoven and Schubert to the cutting edge, as in the Gramophone Award-winning NMC Songbook. Recent recordings include the complete Rachmaninov songs (Delphian) with seven outstanding Russian artists ("the results are electrifying" Daily Telegraph). Burnside's passion for English Song is reflected in acclaimed CDs of Britten, Finzi, Ireland, Butterworth and Vaughan Williams, many with baritone Roderick Williams.
Away from the piano Burnside is active as a writer and broadcaster. As presenter of BBC R3's Voices he won a Sony Radio Award. For Guildhall School of Music & Drama Burnside has devised a number of singular theatre pieces. A Soldier and a Maker, based on the life of Ivor Gurney, was performed at the Barbican Centre and the Cheltenham Festival, and later broadcast by BBC R3 on Armistice Day. His new project Swansong has been premiered at the Kilkenny Festival and will play in Milton Court in November. Future highlights include performances of the three Schubert songcycles with Roderick Williams at Wigmore Hall. A Delphian release of songs by Nikolai Medtner launches a major series of Russian Song in the 2018 Wigmore Hall season. Other forthcoming projects feature Ailish Tynan, Rosa Feola, Andrew Watts, Robin Tritschler and Benjamin Appl. Iain Burnside is Artistic Director of the Ludlow English Song Weekend and Artistic Consultant to Grange Park Opera.
More About Philip Franks
Philip Franks is an English actor and theatre director, known to the public chiefly for his roles in British television series. Philip was born in London and says that he first fell in love with theatre at age six, when his parents took him along to see a production of 'The Tempest'. The following year, when he learned that his parents were going to a production of 'Hamlet', he insisted on going with them again, and says that at age seven, he was hooked for life. Philip is perhaps best known for his roles as tax inspector Cedric "Charley" Charlton in the British sitcom 'The Darling Buds of May' and Sgt. Raymond Craddock on 'Heartbeat'. He has also made guest appearances in 'Absolutely Fabulous', 'Pie in the Sky', 'Midsomer Murders' and 'Foyle's War'. Other appearances include the TV mini-series 'Bleak House' (as Richard), 'Martin Chuzzlewit' (as Tom Pinch), 'The Green Man' and 'To Serve Them All My Days'. He has also made over 250 appearances alongside Susie Dent in the 'Dictionary Corner' on the British quiz show 'Countdown', as well as various panel games and quiz shows for the BBC. On stage, Philip has played many leading roles with the National Theatre and the RSC, including the title role in 'Hamlet', directed by Roger Michell, and Bertram in 'All's Well That Ends Well', directed by Trevor Nunn. He has appeared many times in the West End, including leading roles in 'Art', 'Noises Off' and 'Journey's End'. More recently, he has toured as Hector in 'The History Boys' and as the Narrator in the 40th anniversary production of 'The Rocky Horror Show'. Philip is also a director. Since 1990, he has directed many plays including 'Kafka's Dick' and 'The Kiss of the Spiderwoman' (Nottingham Playhouse); 'The Cocktail Party' (Edinburgh Festival); 'Rebecca' (Royal Lyceum, Edinburgh); 'Hamlet' (Greenwich and tour); 'Macbeth' (Sheffield Crucible) and 'The Duchess of Malfi' (West Yorkshire Playhouse, Greenwich and West End); 'Private Lives' and 'The Heiress' (Royal National Theatre); 'The White Devil' (Lyric Theatre, Hammersmith) and 'The Tempest' (Liverpool Playhouse).
For the Chichester Festival Theatre, where he is also Associate Director, he has directed 'The Life and Adventures of Nicholas Nickleby', which subsequently toured the UK, played in the West End and toured to Toronto, 'Twelfth Night' with Patrick Stewart as Malvolio, 'The Cherry Orchard', 'Taking Sides' and Collaboration' (which both transferred to the West End), 'Separate Tables', 'The Master Builder', 'The Deep Blue Sea', 'Rattigan's Nijinsky' and 'A Marvellous Year for Plums'. He has also directed extensively for BBC Radio.
Photo Gallery