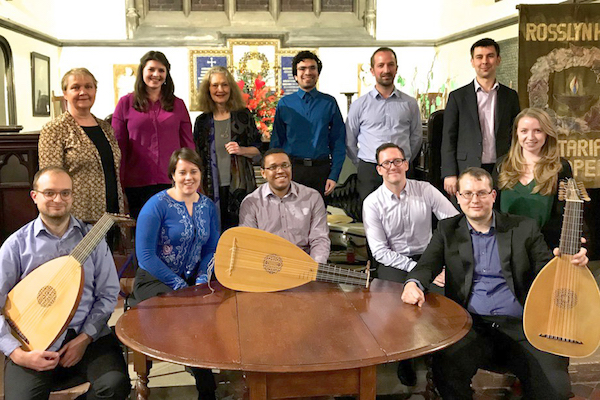 Classical
Dame Emma Kirkby with Dowland Works
Event Details
Date:

28th September 2018

Time:

19:30

Venue:

St Mary's Church
Lion Street, Rye TN31 7LB
Performer/s:

Dame Emma Kirkby with Dowland Works

Sponsor/s:

David Brilliant, Prof. Burton Rosner, Iain & Gilly Webb-Wilson and Dunn Architects
English soprano Dame Emma Kirkby is one of the world's most famous early music specialists. Her uncommonly pure, crystalline voice, deployed with minimal vibrato, her natural declamation, agile coloratura and sensitivity to words have been widely admired by interpreters of early, Renaissance and Baroque music and have served as a model for many specialists in this repertory.
DOORS OPEN: 18:45
EVENT STARTS: 19:30
DURATION: 2 hours approx.
FACILITIES: Disabled Access, Hearing Loop, Bar.
About Dowland Works
Gwen Martin  & Emma Kirkby, sopranos
Clemmie Franks , alto
Michael Solomon Williams, tenor
Vicente Chavarria, bass
Harry Buckocke, viola da gamba
Jacob Heringman  & Eric Thomas, lutes
PROGRAMME
John Dowland (1563-1626)
Come again, sweet love doth now invite
My thoughts are winged with hopes
All ye whom love or fortune hath betrayed
Now, O now I needs must part
Lacrime – lute solo
I saw my lady weep
Flow my tears
Sorrow, stay
John Danyel (1564-1626)
A Fancy – lute duet
Coy Daphne fled from Phoebus' hot pursuit
Thou pretty bird
Why canst thou not as others do
Eyes, look no more
What delight can they enjoy
INTERVAL
Thomas Campion (1567-1620)
It fell on a summer's day
When thou must home to shades of underground
I must complain
My love hath vow'd he will forsake me
Never weather-beaten sail
William Lawes (1602-1645)
Gather your rosebuds while you may
Why so pale and wan, fond lover?
How like a widow
Simon Ive (1600-1662)
Lament and Mourn
John Dowland (1563-1626)
Willoughby's Welcome Home – lute duet
It was a time when silly bees could speak
I must complain, yet do enjoy my love
Semper Dowland semper dolens – lute solo
If my complaints could passions move
Say, love, if ever thou didst find
PROGRAMME NOTES
Over the last five years members of Dowland Works have met from time to time to explore privately or share on the platform the legacy of this amazing composer. John Dowland's eighty-odd published songs are a treasury, to engage and delight performers and listeners alike for many a complete evening, but it is also satisfying to interleave his works with some by his contemporaries, from that age in England where writing song lyrics was a favourite pastime in Court (Elizabeth's wayward favourite, the Earl Essex being especially successful at this) and there would be a lute or two in any serious household. We have chosen the well-known polymathThomas Campion, poet, Court physician and composer, whose robust settings, mostly from his book of 1601, show his determination to keep his ayres "short and well-seasoned", and not "bated with fugue or chained with syncopation". It is likely this is a dig at Dowland himself, since later, in a preface of 1618, Campion speaks of poems of his "cloathed in music by others", declaring "I am content that they then served their turn – but give me leave here to present my own"; for there in the book is his wistful yet plain setting of the magnificent bitter-sweet poem "I must complain".Dowland had published a marvellous version of this back in 1603, using the very features of imitation and cross-rhythms that Campion disliked. We cannot resist including both versions tonight, so distinct, yet each very effective. John Danyel's book of 1606 has a quirky title perhaps: "Songs to the lute, viol and voice"; but among the lute song composers he is remarkable in that singers, lutenists and gambists all adore the parts he wrote for them. We are delighted tonight that Harry Buckoke is with us to bring those wonderful gamba lines off the page, adding a second "vocal" line to each song. Danyel had a far more famous brother, Samuel, writer of popular historical epics and also exquisite sonnets, some of which are beautifully set in John's book; and his other songs explore every shade of meaning, from light and airy to the darkest melancholy,with unique flair and grace. Dowland encouraged singers to voice his music in various ways, declaring in the First Booke of 1597 that his ayres were "so made that all the parts together or either of them severally may be sung"; it is our particular pleasure in Dowland Works to present these marvellous songs in many guises. His book of 1597 had an incredible impact and was to be reprinted four timesover fifteen years, providing material for rich evenings of consortsinging and playing in the homes of cultured families. Indeed, Thomas Morley celebrates such things that same year, in his "A Plaine and easie introduction to practicall musicke".Here we meet Philomathes, anxious to improve himself after an embarrassing experience when he visited one of these houses: "..supper being ended, and Musicke books, according to the custome being brought to the table: the mistresse of the house presented mee with a part, and earnestly requested mee to sing. But when after manie excuses I protested unfainedly that I could not: everie one began to wonder. Yea, some whispered to others, demanding how I was brought up: so that upon shame of mine ignorance I go nowe to seeke out my old friend master Gnorimus, to make myself hisscholler". When Philomathes finds Gnorimus and asks "Pray begin atthe verie beginning, and teach mee (music) as though I were a child,"
The Master obliges with what to us will seem a highly complex diagram of clefs, notes, solmisation syllables and more. Thus Morley's book continues in dialogue form; it is beautiful to look at, clear and comprehensive, but I think few nowadays, childrenor adults, would find it either plain or easy.
Dowland's First Booke had inspired others to try his flexible format, and by its final reprint in 1613 the Lawes brothers, Henry andWilliam, were still in their teens; so it is tempting to think of them at home, sitting round a fine wooden table, with two other singers, a lute and maybe a gamba, all reading their parts from a single, beautiful and practical volume in the centre. Later they would reprise those skills at court, as companions and teachers to Charles, the new and unexpected Crown Prince, and, later yet, supply musical solace to him in Oxford at his court in virtual exile, once his struggles with Parliament had taken such a terrible turn. William was a particular favourite with the King, who was devastated by his death at the siege of Chester in 1648; Henry survived farlonger and wrote over 700 fine songs. William's particular genius was in his instrumental music, much prized by today's players, but we offer tonight some vocal pieces as a glimpse of the eloquence of this dazzling composer, whether in party mood or in sombre reflection on the horrors of war. Simon Ive's elegy for William is perhaps on a simpler level, but no less affecting for that.
Our last section turns back just a decade or two, to the great man himself – Dowland's songs being to us the be-all and end-all of our group, however much we enjoy exploring the works of his colleagues and successors. In this group we cover also Dowland's farewell to Elizabeth herself, the patron who never quite gave him the post he wanted, but still in his book of 1603, the year of her death, drew from him six or seven elegant and touching mementos. We begin with a ditty of her beloved and then disgraced Earl of Essex, daring to complain about the court, but in witty metaphor: "It was a time when silly bees could speak"; and end with "Say, love, if ever thoudidst find" – outrageous flattery, but with a hint of irony that thisextraordinarily intelligent monarch would surely have appreciated.
Photo Gallery